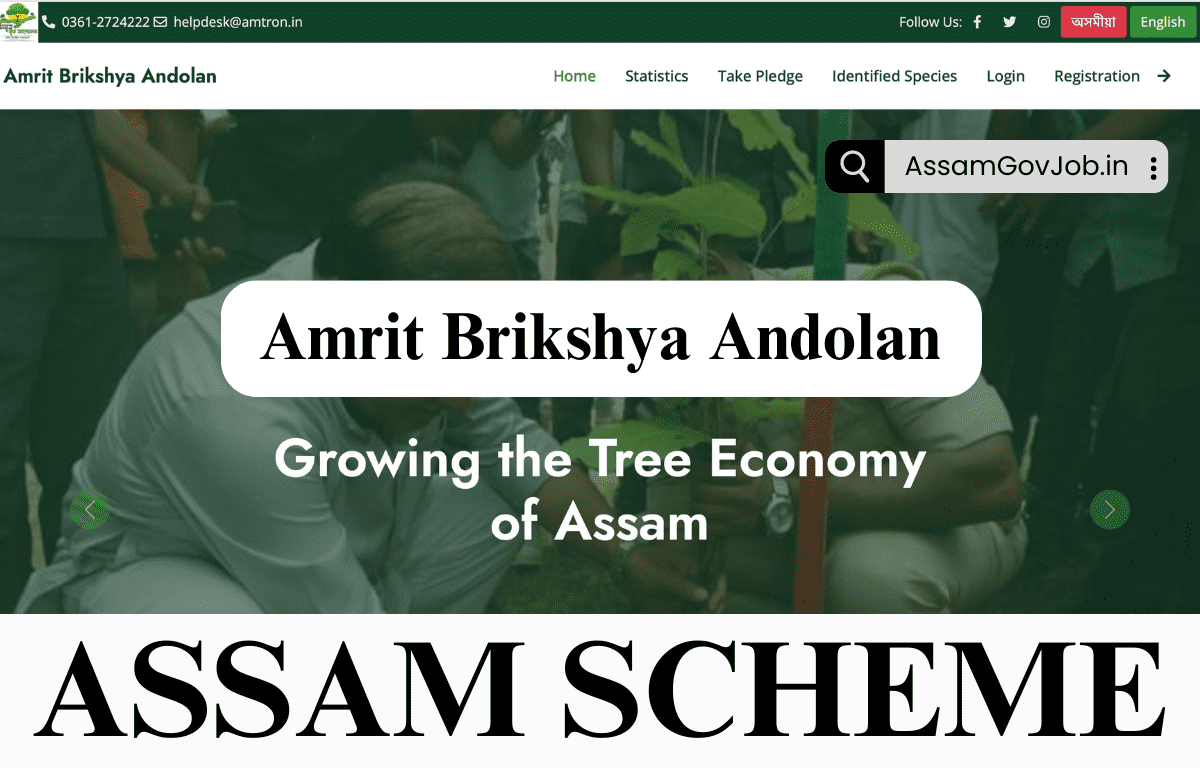 Amrit Brikha Andolan Apply Online 2023, Certificate Download at aba.assam.gov.in. Assam Government Amrit Brikhya Andolan Online Registration. অমৃত বৃক্ষ আন্দোলন in Assamese at aba.assam.gov.in
What people are searching for: Amrit Brikha Andolan, Amrit Brikkha Andolan Registration, Amrit Vriksh Andolan Online Registration, Amrit Brikshya Andolan App Download, অমৃত বৃক্ষ আন্দোলন, Amrit Brikshya Register Online, Amrit Briksha Registration Portal, etc
Amrit Brikha Andolan 2023 Overview
| | |
| --- | --- |
| Scheme | Amrit Brikha Andolan |
| State | Assam |
| Launched by | Assam Government |
| Objective | Plant 1 Crore Seedlings |
| Financial Grant after Planting | Rs. 100 |
| Financial Grant in 3rd Year | Rs. 200 |
| Registration mode | Online only |
| Official Website | aba.assam.gov.in |
Amrit Brikha Andolan 2023
The Government of Assam has recently declared a scheme where the state government is providing Rs. 100 for planting trees. The good news is that you can also take part in the Amrit Brikkhya Andolan Scheme 2023 and earn this reward from the Government of Assam along with a certificate which you can download from aba.assam.gov.in
The state of Assam, located in the north-eastern region of India, is rich in greenery, but since few years it's greenery is depleting continuously.In order to tackle this, the Government of Assam has started a new initiative with the aiming to plant more than 1 crore plants across the state.
ALSO READ: Apun Bahan Scheme Assam 2023
If you want to participate in this Andolan then you have to registered yourself on the official website (aba.assam.gov.in). Note that only registered citizens can participate in this Scheme (Andolan). All the successful participants will get Rs. 300 by participating in this scheme.
Rs. 100 incentive will be provided immediately to the bank account of the individual by planting a tree on 17th September 2023. All you need to do is to upload your selfie while planting a tree on this day and upload it on the Official Amrit Brikha Andolan Portal or the Official Amrit Brikha Andolan Mobile App.
After that you will receive the incentive of Rs. 100 directly into your bank. However, if the tree which you planted grows and remains healthy for 3 years then you will get Rs. 200 after completing 3 years.
Note: Plants will be provided at the district/ block level, seedlings will be stocked and safe-keeping will be ensured. Participants will be provided with seedlings free of charge from their respective pre-defined collection centers.
In this article, we will be providing you every detail about the Amrit Briksha Andolan 2023. Read this full article to know about all the information on the new Assam Tree Planting Scheme like eligibility, benefits, how to apply, certificate download, apply download, amount, how to apply online and register, etc.
ALSO READ: Sahara Refund Portal
Objectives of Amrit Brikha Andolan
There are many objectives behind the recently launched Amrit Brikshya Andolan. However, the following are the most important objectives:
Provide Financial Aid to the people by Direct Benefit Transfer (DBT)
Make the State of Assam greener than before
Promote Tree Economy in Assam
Plant 1 Crore Seedlings in the State of Assam
Benefits of Amrit Brikha Andolan
The following are the benefits of Amrit Brikshya Andolan:
The state will be greener than the previous year
All plants will be provided free of cost
ABA Andolan will promote tree economy in the State.
Geotagged photos will be uploaded to avail of the financial grant.
Rs. 100 will be provided by the State Government after planting the seedling and uploading the Image onto the Amrit Brikshya Andolan Portal and Amrit Brikshya Andolan Mobile App.
Extra Rs. 200 will be provided by Assam Government in the 3rd Year for healthy survival of the plant
Plant variety for Amrit Briksh Andolan
Following are the plant variety:
Mahogany
Sal
Hollong
Bogipoma
Gamari
Ghora Neem
Who can participate in the Amrit Brikha Andolan 2023?
The eligibility criteria to participate in this andolan is as follows:
The applicant must be Permanent Resident of Assam
Geotagged Photos have to be uploaded to avail the financial grant
Self Help Groups, ASHA, Educational Institutions, Village Defence Party, Anganwadi Workers, Tea Garden Workers, and Individuals are eligible for Amrit Brikshya Andolan Registration Online.
The following individuals can apply and registered themselves on the official website of Assam government to participate in this Amrit Brikha Andolan 2023 scheme:
Self help group
ASHA workers
Educational Institute
Village defence party
Anganwadi
Tea garden
Other institutions
If you do not belongs to any category then you can select the others option to apply as an individual.
Note: The government servants who are getting salary from the state or the central government in Assam are not eligible to get the incentive, however they can participate in this mission
Amrit Brikha Andolan Online Registration Process
The interested applicant will have to apply online on the official website portal or the official mobile app. In order to make this easy, we have provided you a step-by-step guide on how to register:
Step 1: Visit the Amrit Brikkha Andolan Portal or ABA App.
Step 2: Click on the Amrit Briksha Registration Button
Step 3: Select the category you belong
Step 4: Fill in the basic information like Name, Age, father's name, and Mobile Number, etc
Step 5: Enter your complete address.
Step 6: Select seedling collection and enter bank details
Step 7: Select Identity and Upload it
Step 8: Verify your mobile number and click on submit button
Important Links
Frequently Asked Questions (FAQs)
Will I get incentive for planting a tree?

Yes, you will get an incentive of Rs.100 for planting seedlings, provided you are not a government employee.

Who is eligible for incentive?

An individual beneficiary who is not getting salary from any government department is eligible for incentive

From where shall I get the seedlings?

You will get the seedling from the pre defined category wise collection points

How should I plant the seedling?

You should dig a clean pit of 30 cm x 30 cm x 30 cm and fill it with soil mixed with some organic manure. Thereafter you should plant the seedling and press the soil around the plant so that it is able to stand on

Will I require permission from the forest department for felling the tree when it is matured?

You will not require any permission from the forest department to harvest this tree when it is mature.
Disclaimer: The information provided in this article is taken from various sources on the internet along with the official website. We do not take any guarantee or responsibility of the facts or data provided in this article. Please refer to the official web portal for the correct details.