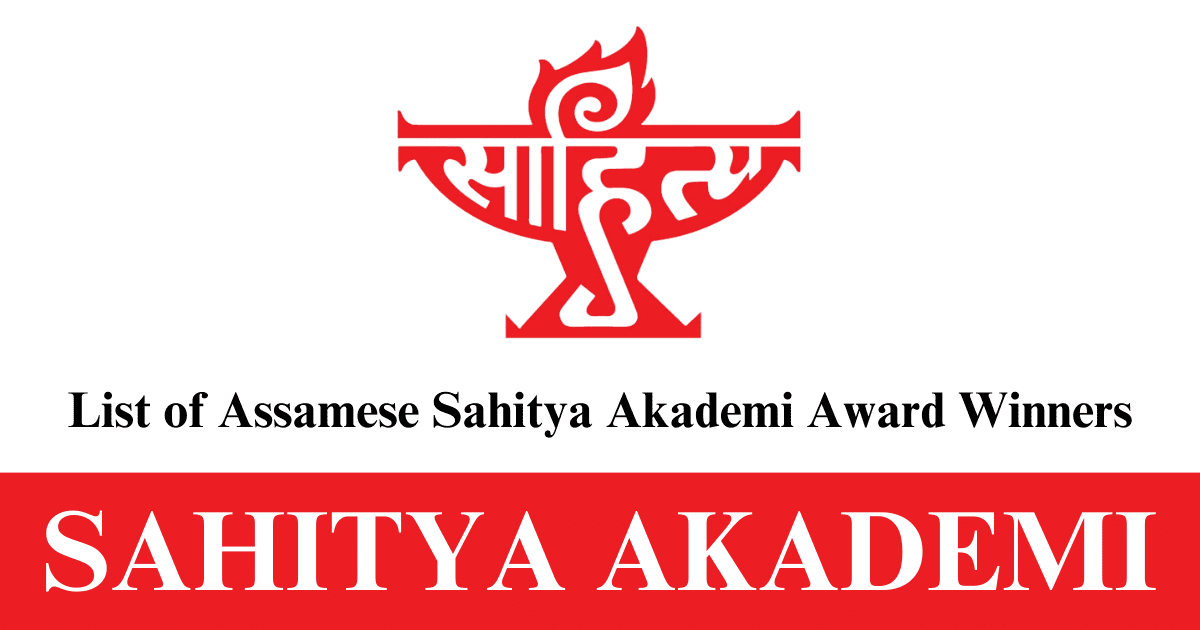 In this article we'll be discussing about the Assamese Sahitya Akademi Award Winners from the year 1955 to present, their books, the category of books and the year of receiving these awards chronologically.
Every year, the Sahitya Akademi Award is given, since 1955, by Sahitya Akademi to writers and their works, for their exceptional contribution to the upliftment of the Indian literature and Assamese literature in particular.
It is noteworthy that no awards were being conferred in the year 1956, 1957, 1958, 1959, 1962, 1963, 1965, 1971, 1973 and 2013.
ALSO READ: List of First in Assam
Sahitya Akademi Award for Assamese – Overview
| | |
| --- | --- |
| Awarded for | Contributions to Assamese Literature |
| Sponsored by | Sahitya Akademi, Government of India |
| Reward(s) | Rs. 1,00,000 |
| First Awarded | 1955 |
| First Winner | Jatindranath Duwarah |
| Official Website | sahitya-akademi.gov.in |
| Download PDF | Click Here |
| Telegram Group | Click Here |
Assamese Sahitya Akademi Award Winners List
Below is the Assam Sahitya Akademi Award List from the year 1955 to present:
| Year | Book | Author | Category of Books |
| --- | --- | --- | --- |
| 1955 | Bana Phul | Jatindranath Dowara | Poetry |
| 1960 | Kangrechar Kachiyali Ra'dat | Benudhar Sharma | Reminiscences |
| 1961 | Iyaruingam | Birendra Kumar Bhattacharya | Novel |
| 1964 | Asamar Loka Sanskriti | Birinchi Kumar Barua | Study in folk culture |
| 1966 | Bedanar Ulka | Ambikagiri Raichoudhury | Poetry |
| 1967 | Adhunik Galpa Sahitya | Trailokyanath Goswami | Literary criticism |
| 1968 | Alakananda | Nalinibala Devi | Poetry |
| 1969 | Manchalekha | Atul Chandra Hazarika | Study of Assamese theatre |
| 1970 | Mahatmar Pora Rupkonarloi | Lakshminath Phukan | Reminiscences |
| 1972 | Aghari Atmar Kahini | Syed Abdul Malik | Novel |
| 1974 | Golam | Saurabh Kumar Chaliha | Short stories |
| 1975 | Koka Deutar har | Nabakanta Barua | Novel |
| 1976 | Srinkhal | Bhabendra Nath Saikia | Short stories |
| 1977 | Bakul Banar Kavita | Anand Chandra Barua | Poetry |
| 1978 | Pita Putra | Homen Borgohain | Novel |
| 1979 | Sonali Jahaj | Bhaben Barua | Poetry |
| 1980 | Prithibir Axukh | Jogesh Das | Short stories |
| 1981 | Kabita | Nilamani Phookan (Jr.) | Poetry |
| 1982 | Mamare Dhara Tarowal Aru Dukhan Upanyasa | Mamoni Roysom Goswami (Indira Goswami) | Novel |
| 1983 | Sudirgha Din Aru Ritu | Nirmalprabha Bordoloi | Poetry |
| 1984 | Jangam | Debendra Nath Acharya | Novel |
| 1985 | Krishna Kanta Handique Rachna-Sambhar | Krishna Kanta Handique | Literary criticism |
| 1986 | Benudhar Sarma | Tirthanath Sarma | Biography |
| 1987 | Aan Ejan | Harekrishna Deka | Poetry |
| 1988 | Patal Bhairavi | Lakshmi Nandan Bora | Novel |
| 1989 | Asamiya Jatiya Jivanata Mahapurushiya Parampara | Hiren Gohain | Literary criticism |
| 1990 | Snehadevir Ekuki Galpa | Sneha Devi | Short stories |
| 1991 | Brahmaputra Ityadi Padya | Ajit Barua | Poetry |
| 1992 | Shaichar Pathar Manuh | Hiren Bhattacharyya | Poetry |
| 1993 | Mor Je Kiman Hepah | Keshav Mahanta | Poetry |
| 1994 | Madhupur Bahudur | Sheelabhadra (Rebati Mohan Dutta Choudhury) | Short stories |
| 1995 | Maharathi | Chandra Prasad Saikia | Novel |
| 1996 | Abhijatri | Nirupama Borgohain | Novel |
| 1997 | Andharat Nijar Mukh | Nagen Saikia | Short stories |
| 1998 | Asirbadar Rang | Arun Sarma | Novel |
| 1999 | Bipponna Samay | Medini Choudhury | Novel |
| 2000 | Baghe Tapur Rati | Apurba Sharma | Short stories |
| 2001 | Edhani Mahir Hahi | Mahim Bora | Novel |
| 2002 | Mahat Oitiyya | Nalinidhar Bhattacharyya | Prose |
| 2003 | Anek Manuh Anek Thai Aru Nirjanata | Bireswar Barua | Poetry |
| 2004 | Manuh Anukule | Hirendra Nath Dutta | Poetry |
| 2005 | Mouna Uth Mukhar Hridoy | Yeshe Dorjee Thongchi | Novel |
| 2006 | Cheneh Jorir Ganthi | Atulananda Goswami | Short stories |
| 2007 | Santanukulanandan | Purabi Bormudoi | Novel |
| 2008 | Deo Langkhui | Rita Chowdhury | Novel |
| 2009 | Katha Ratnakar | Dhrubajyoti Bora | Novel |
| 2010 | Assamiya Ramayani sahitya:kathabastur atiguri | Keshada Mahanta | Article |
| 2011 | Aei anuragi aei udas | Kabin Phukan | Poetry |
| 2012 | Patkai Epare Mor Des | Chandana Goswami | Novel |
| 2013 | Dhuliyori Bharir Sans | Rabindra Sarkar | Poetry |
| 2014 | Mariam Astin Athaba Hira Barua | Arupa Kalita Patangia | Short Stories |
| 2015 | Akashar Chhabi Aru Anyanya Galpa | Kula Saikia | Short Stories |
| 2016 | Maghmalar Bhraman | Jnan Pujari | Poetry collection |
| 2017 | Moriahola | Jayanta Madhab Bora | Novel |
| 2018 | Kaliloir Dintu Amar Hobo | Sananta Tanty | Poetry collection |
| 2019 | Chanakya | Joyasree Goswami Mahanta | Novel |
| 2020 | Bengsata | Apurba Kumar Saikia | Short stories |
| 2021 | Yat Ekhon Aranya Asil | Anuradha Sharma Pujari | Novel |
| 2022 | Bhool Satya | Manoj Kumar Goswami | Short stories |