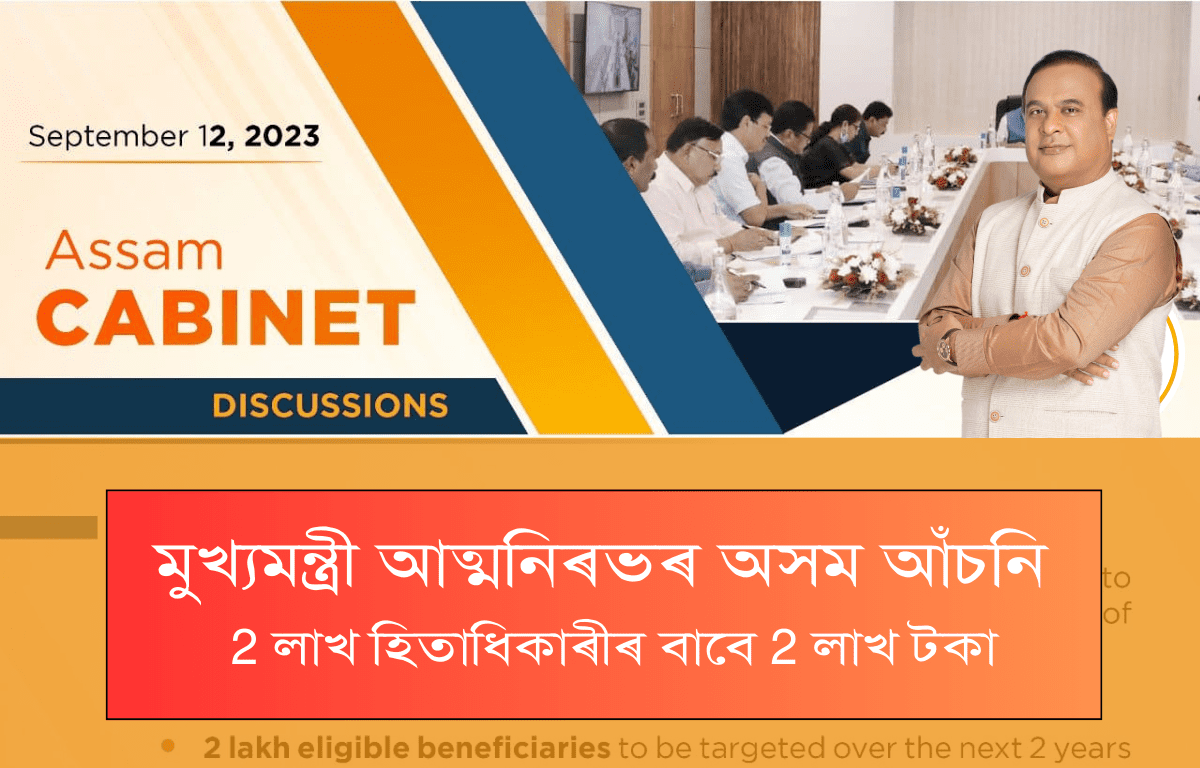 Atmanirbhar Assam Scheme 2023. A golden opportunity for the entrepreneurs of Assam. Financial aid of Rs. 2 Lakhs to 2 Lakh beneficiaries. Check the important details on Mukhya Mantri Atmanirbhar Asom Scheme 2023 like Eligibility, Documents, Registration Form, Apply Online, Last Date, Official Website, Application Form Pdf, Helpline Number, Amount, Beneficiary List, Status, Benefits, Qualification, Age Limit, and more on Assam State Portal
Mukhyamantri Atmanirbhar Assam 2023
The Mukhyamantri Atmanirbhar Assam 2023 is a scheme launched by the Government of Assam, under the leadership of Dr. Himanta Biswa Sarma, the current Chief Minister of Assam. This scheme was launched in a Cabinet Session held on 12.09.2023.
The focus of this scheme is to nurture & help boost the entrepreneurs of Assam, by giving them adequate training & financial aid. A total of 2 Lakh beneficiaries will be chosen from Assam, and they will be granted a financial aid of Rs. 2 Lakh each to invest in their business ventures.
The official website and official notification for the Mukhyamantri Atmanirbhar Assam 2023 is set to come out of 23.09.2023.
Keep reading to find all the details about the Chief Minister Atmanirbhar Assam Abhiyan 2023, like its benefits, eligibility criteria, the Skill Development program, etc.
Atmanirbhar Assam 2023 Overview
| | |
| --- | --- |
| Name of Scheme | Mukhyamantri Atmanirbhar Assam 2023 |
| Introduced by | Assam Government |
| Amount Provided | Rs. 2,00,000 – Rs. 5,00,000 |
| Launch Year | 2023 |
| State | Assam |
| Beneficiaries | Entrepreneurs of Assam |
| Application Process | Online |
| Repayment | After 5 Years |
| Official Website | cmaaa.assam.gov.in |
| Free Alerts | YouTube | Telegram |
Eligibility Criteria for Atmanirbhar Assam Scheme
The beneficiaries of Atmanirbhar Asom Scheme should fulfil the following criteria:
Residentship:  Applicant should be a permanent resident of Assam.
Age Limit: The age of the applicant should be within the age range of 28 to 40 years as on 1st April 2023.
Age Relaxation: Relaxation in upper age limit is 3 years for OBC, SC and ST category candidates.
Educational Qualification:   

General Category: Applicant should be minimum Class 10 passed.
OBC, SC and ST category: Applicant should study up to Class 10.
Professional Skills:  The applicant should possess skills, experiences, knowledge, etc., to undertake the income generating activities.
Bank Account: The applicants should have a bank account, which has been opened before 31st December 2023.
Loan Defaulter: The applicant should have not defaulted any loan taken from Co-operative and Nationalized Bank in the past.
Government Service:  Applicant should not belong to a family of govt service holder/ pensioner.
Family: Not more than one member from any family shall be eligible for availing benefit under this scheme.
Employment Exchange Registration:  Applicant must be registered in Employment Exchange of Assam before April 1, 2023. 
Mission Bhumiputra Assam Portal, Caste Certificate Download
Benefits of the Mukhyamantri Atmanirbhar Asom Scheme
These are the benefits under the Mukhyamantri Atmanirbhar Asom Scheme 2023:
Eligible beneficiaries will receive a combination of a government grant and an interest-free government loan.
This financial aid will be granted to help boost the growth of a micro-entrepreneur network in Assam.
The loan will be repayable after 5 years, in an effort to ensure that the beneficiaries have a strong footing in the market and have the financial ability to pay back the loan without any duress.
Skill Development Program under Mukhyamantri Atmanirbharshil Assam 2023
People selected for the Mukhyamantri Atmanirbharshil Asom 2023 will have to undergo a mandatory one-month Skill Development Program. Keep reading to know details about this program:
This training, conducted in collaboration with selected educational and skill training institutions, plans to enhance critical skills such as entrepreneurship, management, and accounting in the beneficiaries.
Trainees will receive a stipend of Rs. 10,000 during the training period. This investment in skill development is expected to empower beneficiaries with the knowledge and expertise required to run their businesses efficiently.
Assam PRC Certificate Online Apply
Beneficiary Coverage for the Atmanirbhar Asom Yojana 2023
Beneficiaries who are selected for the Mukhyamantri Atmonirbhor Assam 2023 Yojana will be granted the following aids:
Financial assistance by the Government grant plus an interest-free government loan, which is to be repaid after 5 years to build a micro-business enterprise network.
A total of 2 Lakh beneficiaries will be chosen over the next two years for this scheme, i.e., 2023-2025.
Targeted Sectors of Atmanirbhar Assam Abhijan
The following sectors are targeted under the recently launched Atmanirbhar Asom Scheme 2023:
Stationary
Poultry
Goar Farming
Fisheries
Readymade Garment
Hardware Business
Self-Employment and Professional Courses
Agriculture and Horticulture
Dairy
Piggery
Packaging
Fabrication
Plantation (Bamboo/ Rubber/ Agar, etc)
Wood based industries
Other Sectors including Services
Documents Required to Apply for Atmanibhar Assam Scheme
The following documents are required while submitting online application forms for the new Assam Mukhya Mantri Atmanirbhar Scheme 2023:
Aadhar card
Identity proof certificate
Education qualification certificate
Bank details
Skill training certification (if you have any)
Password size photograph
Registered mobile number
Email ID
Atmanirbhar Assam Scheme Apply Online
The interested youths of Assam can apply online for the latest Mukhya Mantri Atmanirbhar Assam Scheme 2023 by visiting the Official Portal of assam.gov.in.
How to Apply for Atmanirbhar Assam?
People who wish to apply for the Mukhya Mantri Atmanirbhar Assam 2023 must follow the steps given below carefully:
Step 1: First of all, visit the official website of the Mukhyamantri Aatmanirbhar Assam 2023
Step 2: Once the homepage loads, click on the 'New Registration' option to start the registration process.
Step 3: Fill in the required details like your name, age, educational qualifications, address etc.
Step 4: Attach all the documents requested like your photo, signature, etc.
Step 5: Once the form is duly filled & successfully submitted, applicants are advised to print two copies of the form and keep it safely for further use.
Important Dates for Atmanirbhar Assam Scheme
| | |
| --- | --- |
| Starting Date of Online Registration in Portal | 23rd September 2023 |
| Last Date of Online Registration in Portal | 7th November 2023 |
| Starting Date of Submission of Online Application | Notified later |
| Starting Date of Submission of Online Application | Notified later |
Important Links
Salient Features of Atmanirbhar Assam Scheme
The following are the salient features of the new Assam Government Atmanirbhar Assam Scheme:
Beneficiary Coverage
The Atmanirbhar Asom Scheme will cover 2 lakh eligible beneficiaries over the next 2 years. Accordingly, 1 lakh youth will be targeted during Financial Year 2023-24 and rest 1 lakh will be targeted in Financial Year 2024-25. 
Qualification
Amount
• Engineering
• MBBS
• BDS
• Veterinary
• Fisheries, Agriculture, etc
Rs. 5 Lakh
• Grant: 50% 
• Interest-free Govt Loan: 50%
Qualification
Amount
• Post Graduates
• General Graduates
• ITI/ Polytechnic pass-outs/ Diploma holders in Technical Courses
• Matriculates (General Category)
• Up to Class X (SC/ ST/ OBC)
Rs. 2 Lakh
• Grant: 50% 
• Interest-free Govt Loan: 50%
Financial Assistance
The financial assistance for Atmanirbhar Assam shall be a combination of Government grant plus interest-free Government loan to be repaid after 5 (five) years to establish micro-enterprise/ service units. The beneficiaries, as per their eligibility will receive 2 lakh or 5 lakh in two instalments
Skill Based Training
The selected beneficiaries will have to undergo a one month training in selected educational/ skill training institutions for enhancing entrepreneurship, management and accounting skills. During this period, Rs. 10,000 shall be granted as stipend to participating beneficiaries. 
Conclusion
The Mukhya Mantri Atmanirbhar Asom Scheme initiative marks a significant stride in Assam's endeavors to foster entrepreneurship, create job prospects, and boost economic progress.
With a goal of reaching 200,000 beneficiaries in the next two years, providing a blend of grants and interest-free loans, and emphasizing skill development through training, the government is actively empowering its residents to achieve self-sufficiency and contribute to the state's prosperity.
With the registration portal set to launch on September 23, 2023, aspiring entrepreneurs in Assam now have a tangible opportunity to turn their aspirations into thriving businesses, thereby forging a brighter future for themselves and their communities.
Frequently Asked Questions
How to register for the scheme?

The registration portal for the scheme will be launched on 23rd September, 2023. You can check your eligibility, status of application and register under that portal.

Do I need to undergo training for the scheme?

Yes. A one-month long training will be done for the selected beneficiaries in skill training institutes for availing the benefits of the scheme.

When was Mukhya Mantri Atmanirbhar Asom scheme launched?

The scheme was launched on 12th September, 2023 by Assam CM in Cabinet Session.

What is the education qualification required for Atamnirbhar Assam Scheme?

The minimum educational qualification for Atmanirbhar Assam Scheme is read up to Class 10 or Class 10 passed
Disclaimer: The content in this article serves solely as a reference and should not be regarded as official information. For genuine and authoritative details about the Mukhya Mantri Atmanirbhar Asom initiative or any government programs, kindly visit the official website of the Government of Assam at cmaaa.assam.gov.in. For precise and current information, including eligibility criteria, application procedures, and official announcements, it is advisable to consult official government sources.