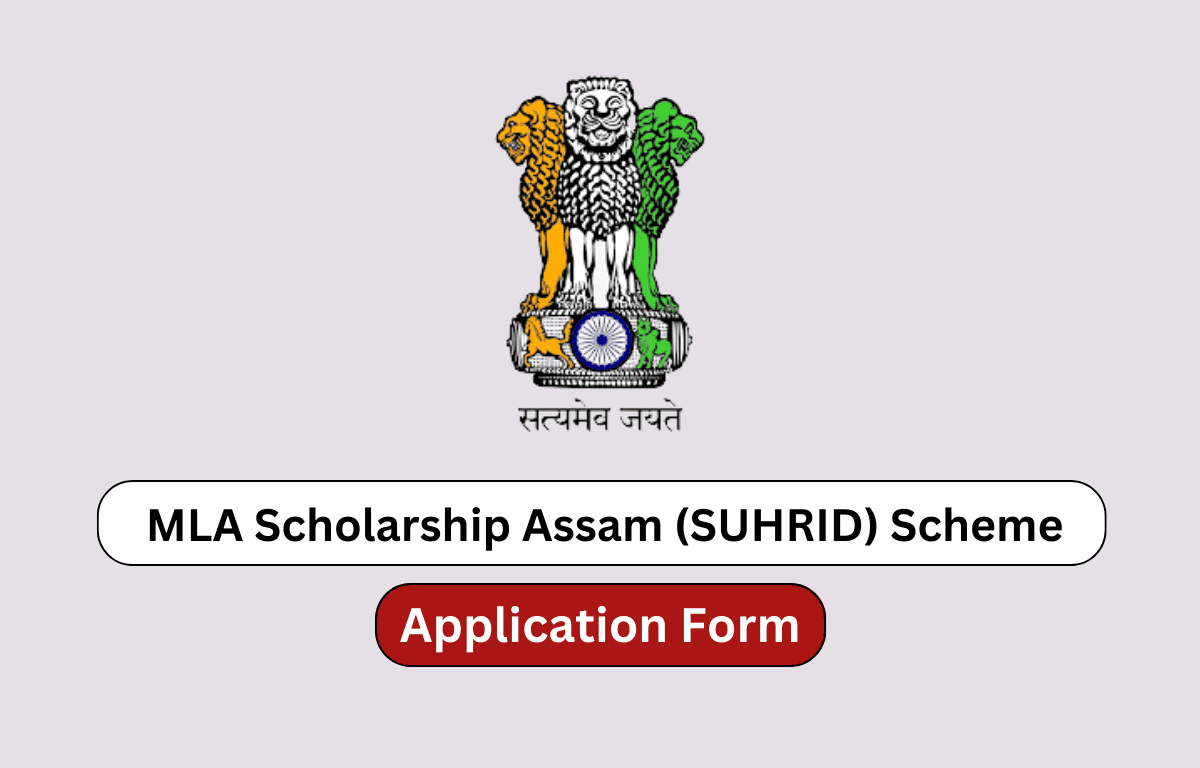 MLA Scholarship Assam 2023. SUHRID Assam MLA Scholarship 2023 Application Form Pdf Download. Get all the informations regarding MLA Scholarship (SUHRID) Scheme, 2023 here at AssamGovJob.in. Get additional information on last date, application form (PDF), scholarship amount, registration, how to apply, etc
MLA Scholarship Scheme
| | |
| --- | --- |
| Department | Transformation and Development Department, Assam |
| Scheme | SUHRID MLA Scholarship Scheme |
| Scheme Type | Financial Assistance (Education and Health Sector) |
| State | Assam |
| Application Process | Offline |
| Last Date | will be confirmed by the local MLA |
| Scholarship Amount | Rs. 5,000 – Rs. 20,000 |
| Qualification | Class 10th and above |
| Free Alert | YouTube | Telegram |
What is MLA Scholarship Scheme (SUHRID) 2023?
The MLA Scholarship Scheme, Assam (popularly known as SUHRID Scheme) is a scheme of the Government of Assam where the Member of the Legislative Assembly (MLA's) provides some financial assistance to the needy students and help them to pursue their further studies, who are exceptional in their studies with good overall grades in their respective fields of study.
The primary focus and vision of the MLA Scholarship Scheme (SUHRID) Scheme/ MLA Area Development Fund Scheme are to provide opportunities to students in their studies whose financial conditions are a barrier in their further higher studies.
MLA Scholarship Scheme (SUHRID) 2023 Details
| | |
| --- | --- |
| Name of Scheme | MLA Scholarship Scheme or SUHRID Scheme |
| Type of Scheme | Financial Assistance |
| Name of Department | Transformation & Development Department, Govt. of Assam |
| Eligibility | Class 10th and above |
| Application Process | Offline |
| Application Fee | Free |
| Scholarship Amount | Rs. 5000 – Rs. 20,000 |
SUHRID Scheme 2023 Assam
Govt of Assam has introduced a new scheme "SUHRID" under MLA-LAD program with an additional grant of Rs 50.00 Lakhs per Constituency (LAC) to enable assistance by the MLAs to the poor and needy citizens of their constituencies to meet their expenses incurred in the areas of Health & Higher Education. Government of Assam this year also provided around ₹6300 Lacs among all the 126 constituencies of Assam.
Who can Apply for SUHRID Scholarship Scheme?
The MLA Scholarship Scheme (SUHRID), Assam is available to those who are pursuing the below-mentioned courses:
HSLC (10th)
HSSLC (HS)
UG (B.SC, B.COM, B.A, etc)
PG (M.SC, M.COM, M.A, etc)
DIPLOMA (PGDCA, etc)
VOCATIONAL (ITI, B.VOC, etc)
How to Apply for MLA Scholarship?
Students who are pursuing the above-mentioned courses, may directly contact the local MLA's of their constituency and ask for the form. For your convenience, we have provided the link to the form below to give you an idea of the form. But, we highly recommend you all to contact the local MLA Office of your constituency to know more about the scheme and how to apply for the same.
Documents Required
To apply for the MLA Scholarship Scheme (SUHRID), Assam, students are required to have the following documents, which are to be attached with the official scholarship form:
A recent passport photo.
A Bank Account; must be in a Nationalised Bank/ Regional Rural Bank/ Assam Apex Bank.
An active and valid Indian Mobile Phone Number.
Any valid ID Proof.
Important Links
MLA Scholarship Application Form Download PDF
In order to apply for the Assam Scholarship Scheme, the candidates will have to apply through the application form which is in pdf format and filling up the application form. The download link for downloading the application for MLA SUHRID Scholarship Scheme, Assam is given below:
Scholarship Amount for MLA Scholarship 2023 Assam
One time financial assistance of Rs. 10,000 per student may be granted to a student as assistance for higher/ technical and vocation educational purposes with the limit in exceptional cases up to Rs. 20,000
MLA Scholarship Scheme (SUHRID) Assam 2023 Last Date
The last date for the application for MLA Scholarship Scheme (SUHRID), Assam, 2023 is not exactly given. Please refer to the official website for more details. You can also contact your local constituency MLA Office for more details.
MLA SUHRID Scholarship Contact Details
Transformation & Development Department
Government of Assam
Block F, Janata Bhavan, Dispur,
Guwahati-781006, Assam
Email: tnd-deptt@assam.gov.in
Phone: 0361-2237274
Note: Above given data or information is purely unofficial and admin or website will not provide any assurance that the information is correct. All information is collected from various sources. We request you to verify it by yourself.
FAQs
What is the mode of application for MLA Scholarship (SUHRID) Scheme 2023?

The mode of application for MLA (SUHRID) Scheme 2023 is Offline i.e., the students will have to download the application form and submit it.

What is the MLA Scholarship last date 2023?

Though the application submission term has been extended, the exact date is not yet known. Please contact your constituency MLA Office.

What is the scholarship amount for MLA Scholarship Scheme (SUHRID) Assam 2023?

The scholarship amount for MLA Scholarship Scheme (SUHRID) Assam 2023 ranges from Rs. 5000 – Rs. 20,000